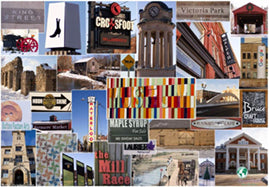 Are you starving to get out & go SOMEWHERE safe in your own 'car bubble?'   We've created a fun opportunity to explore your own backyard.      
Do You Wanna Play a Game?           It is part-scavenger-hunt, part-amazing-race, part-road-rally, part-history-lesson, part-adventure, part-puzzle building and A WHOLE LOT OF FUN! We've designed an intriguing, SAFE, SELF-DRIVE (in your own vehicle) regional road trip with a focus on hyperlocal tourism.
Our theme for Waterloo Region is INDUSTRY to INNOVATION and all that is IN BETWEEN. Fields Trips invites you to EXPLORE your backyard and DISCOVER the pieces of the puzzle. By way of using clues and directions, you're encouraged to take photos along the way. You will be rewarded with a 500 piece puzzle as a reminder of your time exploring the Region.
We've mapped 4 routes that when pieced together will take approximately 3 ½ hours. This road trip has been planned to highlight the theme and starts or ends with venues to entice YOU to 'stay and visit a little longer.'           Are you ready to be inspired to do more, see more, taste more, & visit more…
BUT WAIT THERE'S MORE…
How many people can play? You'll need a minimum of 2 in the vehicle (a driver, a navigator) and as many others as you want to cram in!
COST is $69 per vehicle        
We will oversee scheduled dates with 8-10 vehicles per date on the dates below:
To Be Announced

OR – select your own date and we'll deliver the clues along with the puzzle to the starting spot in Cambridge.
INCLUSIONS; Clues & Directions, Puzzle and All Taxes
COST PER CAR $69      *Snapshot Road trips are non-refundable, but you can go any date at your leisure (additional puzzles are $35 each)
Read more about our SNAPSHOTS of Waterloo Region by freelance writer Juanita Metzger, owner of STROLL Walking Tour: https://communityedition.ca/hyperlocal-travel-snapshots-of-waterloo-region/ 
Contact Us to book!